UPDATE: The SourceRuns Half-Life Jump Map Cup is now over!
Congratulations to PJC for winning the grand final, with d0t taking the 2nd place! Both runners showed us some insanely great jumping skills. Big thanks to everyone who has signed up and participated, as well as to the contributors to the prize pool! We hope you enjoyed the show!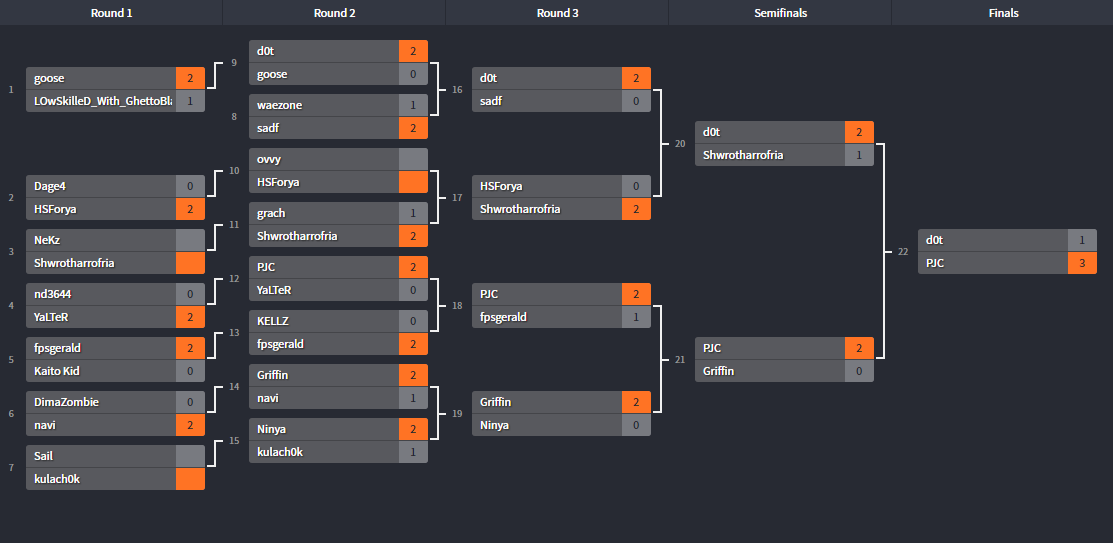 Brackets can be found here.
Hey guys!
As you might've noticed, this year we haven't been holding our traditional "SourceRuns Winter contest". This is because we've been thinking of a new format for the contest, to make it more interesting for the runners and the entire community. Our friends over at KZ-Climb have been hosting some really great CSGO KZ cups, and we've decided to try out the same format for our own contest.
Therefore, we will be holding a Half-Life Jump map tournament! It will be a live event that we will stream on our Twitch channel at http://twitch.tv/SourceRuns. Follow us if you haven't already!
The tournament will take place on March 11th, starting at 16:00 GMT!
Map pool
agtricks
ztricks
zjumps
destructo_hops
kzsca_watertemple
bkz_goldbhop
bhm_ramp
Rules
The tournament will have a Best of 3 Single Elimination format, with the grand final being Best of 5. Each participant will be able to veto 2 maps from the pool, and 1 map during the grand final.
All runs are done in a Half-Life multiplayer mod Adrenaline Gamer, on a server running HL KreedZ. The mod has uncapped bunnyhopping and a built-in autojump feature that you will be able to use.
In order to allow fair competition, the fps_max CVAR is capped to 249.5
You are only allowed to press the start button once. If you restart the timer, your opponent will be given a default win. Using checkpoints and teleports is not allowed, every run has to be a "Pro" run.
Some maps in the pool have health booster platforms. These are broken in Half-Life and give you ridiculous amounts of speed, therefore they are not allowed.
Since HL KreedZ doesn't have the ability to race, each runner will be running separately. The runner with the fastest map time will win their group.
UPDATE 2/26: Thanks to Lev, an update to HL KreedZ was released, allowing players to race each other with agstart. After the race countdown, the timer is started automatically and players are spawned on their start checkpoint. The first to press the end button is the winner of the race.
Tournament runs will be 1v1 races.
UPDATE 2/27: Any kind of scripted sequences are banned, except OpenAG autojump, duckroll, doubleduck and usespam. 
agtricks stair climb script is also banned.
UPDATE 2/28: You are required to record demos during your runs and be able to provide them if requested.
UPDATE 3/7: The starting time has been changed from 18:00 GMT to 16:00 GMT.
Prize pool
We are going to have an open prize pool again, so if you wish, you can donate here.
Current prize pool: 200€
1st place winner will receive 70%
2nd place winner will receive 30%
Sign-ups
The sign-ups are now closed.
List of signed up players can be found here.