The second SourceRuns Half-Life Jump Map Cup is finished!
?? Beginner takes the crown with a 3-1 victory against ?? ThereIsNoNeedToRun, congratulations!
We want to thank all participants for entering the cup and showing off some incredible skills to us once again. Also, massive props to those who have contributed to the prize pool, raising it to an incredible sum of 500€+, this completely blew away all of our expectations!
We hope everyone had a good time and see you next time!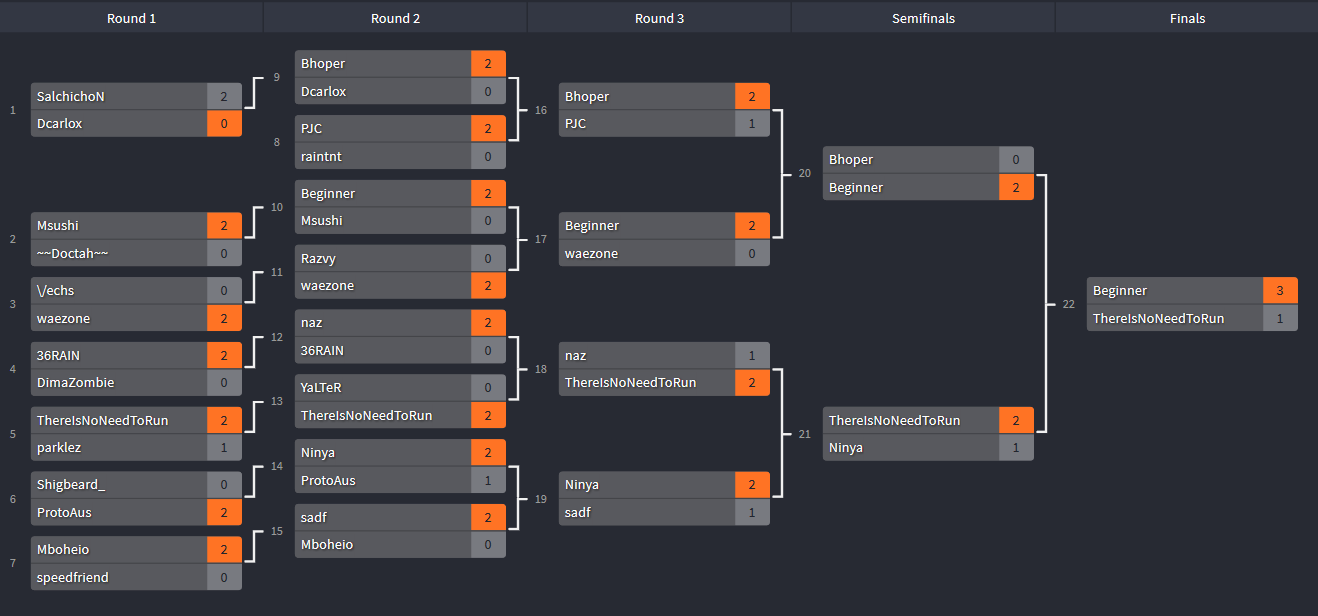 Hey everyone! Happy new year!
After a pretty successful first edition of SourceRuns Half-Life Jump map cup™ we've been trying to organize a second one this past year, however due to lack of good organization it never really happened. Until now, that is!
The SourceRuns Half-Life Jump map cup is coming back for a 2nd edition in 2018! It will take place in February 3rd, starting at 16:00 UTC. Don't miss it!
Same as last year, it will be a live event that we will stream on our Twitch channel at http://twitch.tv/SourceRuns so make sure to follow that.
Map pool
This time we'll be introducing some new maps, though a couple of classic ones have remained as well.
bkz_junglebhop
gayl0rd_bhop
kz_anubis
dyd_axn_plant
kzsca_watertemple
agtricks
ztricks
A package with all the map files is available here.
Rules
The rules are pretty much the same as last year, with the map picking part being slightly different.
The tournament will have a Best of 3 Single Elimination format, with the grand final being Best of 5. Each participant will be able to pick and ban one map out of the pool. During the grand final, each player will only be able to ban one map.
All runs are done in a Half-Life multiplayer mod Adrenaline Gamer, on a server running HL KreedZ. The mod has uncapped bunnyhopping and a built-in autojump feature that you will be able to use.
In order to allow fair competition, the fps_max CVAR is capped to 249.5
Using checkpoints and teleports is not allowed, every run has to be a "Pro" run.
Abuse of health boosters to gain speed at the start is not allowed.
Tournament runs will be 1v1 races.
Any kind of scripted sequences are banned, except OpenAG autojump, duckroll, doubleduck and usespam. 
agtricks stair climb script is also banned.
You are required to record demos during your runs and be able to provide them if requested.
Servers
If you need a place to practice the maps:
Europe server (Stockholm) play.sourceruns.org:27016
NA East server: 165.227.197.61:27015
Prize pool
We are going to have an open prize pool again, so if you wish, you can donate here.
Current prize pool: 356,18€
1st place winner will receive 70%
2nd place winner will receive 30%
Sign-ups
Sign-ups are now closed.
List of players who have signed up so far is available here.
Stay tuned for further updates!